Silver Investing Guide Welcomes You
Find valuable buying/selling information on 12 of the most popular US silver coins in my book The Last US 90 Percent Silver Coins. Available in both paperback and eBook formats.
If you are just starting out on your silver investments in 2018 or simply want to find out more about buying and selling silver, you will find useful information on this site.


Investing in silver isn't that difficult with the "right" information. My goal is to provide you with that information with a series of useful articles on various silver coins, silver bars and related topics.

I want you to benefit from my previous experience in selling silver and gold for one of the oldest and most reputable precious metals dealers in the U.S. Just keep in mind that only you can decide if investing in silver is right for you. I take no responsibility for whatever silver purchases you make.
Is It Wise To Invest In Silver In 2018?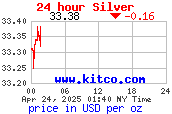 Silver hit a high of approximately $50.00 per ounce over 35 years ago. In 1993, silver could be bought for as low as $3.50 per ounce. In 2011 silver again came close to the $50 per ounce mark before going into a slow, downward spiral. So where does silver go from its current spot price seen at right?

No one knows for sure how high or low the price will go. The price of silver year-end 2017 closed at $16.91 for a paltry gain of $.79 (+4.87%) over year end 2016. Although a modest gain, demand for physical silver remains high. Many knowledgeable experts say silver prices are heading much higher in the months ahead.
More Silver Investing Information To Follow
Stay tuned for more information on Silver Investing. My goal is for this site and its sister site, Silver Investing Simplified to be among the most useful silver investing sites on the Internet. So if you are currently investing in silver or a soon-to-be investor, bookmark this site and come back again.

Copyright © 2011-2018 Silver Investing Guide